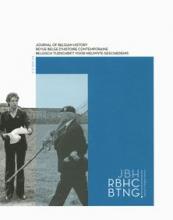 Issue 2-3 of the Journal of Belgian History has been published!
Thursday, October 11, 2012 - 10:18
Theme Issue War and Memory
Memory and the commemoration of the Second World War are themes that transcend academic research. The way in which the war is still present today remains a burning hot topic.
Generation after generation, society and politics continue to carry the weight of the war years. This is evident from ever changing memorial practices that are influenced by the Zeitgeist, ideology and the duty of commemoration.
This theme issue connects with the field of memory studies, a quickly expanding branch in international historiography.

Debate 100 years First World War
The commemoration of the outbreak of the First World War is imminent. In the debate forum, three historians discuss the how and why of this commemoration.
Within state institutions, the heritage sector and academic circles, this commemoration is approached in very different ways. The gap between Flanders and Francophone Belgium is all the more apparent here.

PhDs and book reviews
In this double issue, a dozen newly obtained PhDs on Belgian history are summarised. Furthermore, in the Reviews section, many recent publications concerning Belgian history are critically reviewed.
Order this issue ?
Willem Erauw
CEGES   Square de l'Aviation 29   1070 Brussels
Tel  +32 (0)2 556 92 11
jbh-admin@cegesoma.be