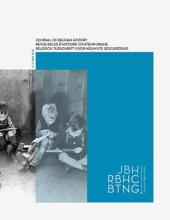 The double issue 2013 has been published
Thursday, May 30, 2013 - 15:33
Six articles permit the reader to time-travel to the 19th century, the interwar and the post-war period. The subjects cover social-economic, political, cultural and colonial history.
Furthermore, the issue includes an interesting "Debate" section on the In Flanders Fields Museum and Kazerne Dossin, a survey of recent PhD's and a rich harvest of reviews.
An issue not to be missed !